Alaskan Cruise + Yukon + Denali
Small Group Land & Sea Journey with Holland America Line
10 Days MS Nieuw Amsterdam - July 21 to 30, 2018
Escorted by Nette Bacaling a Cruise Specialist who worked with Holland America for several years.
You'll venture deep into the Yukon and back in time to 1898, when gold was discovered in a tributary of the Klondike River. Follow in the footsteps of the "Sourdoughs" to seldom-visited Whitehorse, rugged capital of the Yukon Territory. Walk the boardwalk of rough-and-tumble Dawson City, with its false-front buildings, unpaved streets and Klondike Gold Rush heritage. Ride the narrow-gauge White Pass & Yukon Route Railroad, a civil engineering landmark, through breathtakingly beautiful terrain to the White Pass summit. Your explorations continue in Denali National Park and Preserve, one of Earth's most magnificent places. At six million pristine acres, the Park is home to moose, caribou, wolves, Dall sheep, grizzly bears and North America's highest peak, Mt. Denali (formerly Mt. McKinley), towering over the Park at more than 20,000 feet high.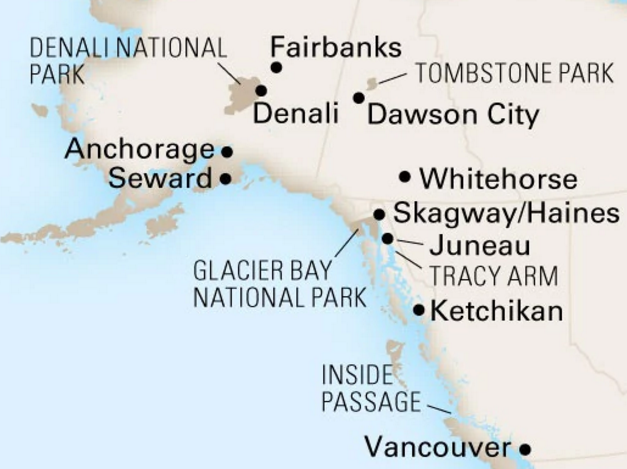 10 DAY ALASKAN CRUISE + YUKON + DOUBLE DENALI – LAND AND SEA JOURNEY July 21 – 30, 2018 (Vancouver to Anchorage) Day Port Itinerary 1 Vancouver Sail from Vancouver, glide under the Lion's Gate Bridge, and enter the scenic wonders of the Inside Passage.
2 At Sea Relax and enjoy a full day of scenic Inside Passage cruising and immerse yourself in Holland America Line elegance.
3 Tracy Arm This morning you have the chance to explore the stunning beauty of Tracy Arm and the Sawyer Glaciers on an optional excursion.
As we journey along the coast, this afternoon we make a stop in Juneau to explore the Alaska's capital. Choose from exciting optional shore excursions and still have time to Shop.
4 Whitehorse Meet your Journey Host in Skagway before departing aboard the historic White Pass train to Fraser, then on to Whitehorse via Explorer coach.
5 Dawson City Follow the route of Klondike gold stampeders in style to Dawson City, with an included lunch stop in historic Minto.
6 Fairbanks Your journey continues as you board a short flight bound for Fairbanks, Alaska's Golden Heart City.
7 Denali Today it's off to Denali for a two night stay at this magnificent national treasure.
8 Denali Today features the unforgettable Tundra Wilderness Tour. This 6-8 hour fully narrated sightseeing excursion is a deep dive into Denali National Park – the very best chance of seeing both the mountain itself and Denali's iconic wildlife(snack included).
9 Anchorage This morning, board a luxurious domed rail cars of the McKinley Explorer bound for Achorage where you will bid farewell to your Journey Host.
10 Anchorage Your Land + Sea Journey concludes this morning in Anchorage .
Cruise Includes:
3 night Alaskan Cruise + 6 night Land Journey with Holland America's MS Nieuw Amsterdam
Transfer from Vancouver Airport to Canada Place Cruise Terminal. Return transfer from Anchorage Hotel to the Airport on the day of the Cruise. Not included with any deviations.
Gourmet or Casual dining daily "As you wish" with breakfast, lunch, dinner and snacks on the 3 night cruise and for the Land Journey optional meal plans are available for purchase at the latest 3 weeks prior departure
Choice of an Inside stateroom category J, Ocean view stateroom category D, Verandah stateroom category VB, or Suite upgrades are available
McPhail Travel Cruise Specialist Escort
Notes:
Price for the Pre-night hotel in Vancouver is not included and it is optional
Flights from Winnipeg to Vancouver & Anchorage to Winnipeg are not included and will be available 330 days prior departure. Please call for pricing
Optional shore excursions available at each port for purchase
CRUISE ONLY PRICES PER PERSON
Inside Stateroom Category J - $2,842.10 plus taxes $319.77 based on Double Occupancy
Ocean View Stateroom Category D - $3,154.10 plus taxes $319.77 based on Double Occupancy
Verandah Stateroom Category VB with Balcony - $3,518.10 plus taxes $319.77 based on Double Occupancy
(Other categories & for Single and Triple Occupancy, please call for pricing)
Cruise deposit of $870.00 per person and medical insurance is mandatory plus optional cancellation and interruption travel insurance due at time of booking.
FINAL PAYMENT DUE BY APRIL 20, 2018
Cancellation Policy: In the event that you have to cancel you must notify McPhail Travel immediately in writing. The following scale of charges will apply according to the date that the notice is received. Air penalties may differ and will be discussed at the time of ticket purchase.
Notification:Penalty:95 days or moreDeposit Only79 to 30 days50% of cruise cost29 days or less100%