Think Overwater Villas are the Height of Exotic Luxury Travel? Try This UNDERwater Villa
It puts new meaning into being immersed in the local natural beauty. The pristine waters of the Maldives are epic, surrounding one of the world's most romantic, remote and legendary tropical eco paradise destinations.
Now you can sleep alongside your sweetheart or family as well as the rich marine life that animates the waters of these tiny islands in the Indian Ocean. Conrad Maldives Rangali Island is a pioneering resort: the first international hotel in the Maldives, the first underwater restaurant, and now, the first undersea residence.
It's called the Muraka, or 'coral' in the local Maldivian language, and it is an extraordinary way for up to 9 guests to experience of one of the world's most breathtaking marine environments. Specialized aquarium technology was used to create the 2-story villa, consisting of above-sea-level space, and a spiral staircase to an underwater suite more than 16 feet below sea level with a king size bedroom, living room, and bathing area under a dome with 180-degree views of the ocean.
Sleeping in an undersea dome is an almost surreal vacation, but the overwater part of the villa above is unforgettable, too. More bedrooms, one with an ocean-facing bathtub, more bathrooms, gym, space for a butler and private security, living room, kitchen, bar and dining area with a deck facing the sunset, and another deck with an infinity pool facing sunrise.
The Muraka butlers are dedicated 24-7 to hyper-personalized service. They are also ambassadors of the Maldivian island experience for undersea villa guests, sharing their passion for culture, the environment and adventure throughout your custom-crafted stay at the Conrad Maldives Rangali Island.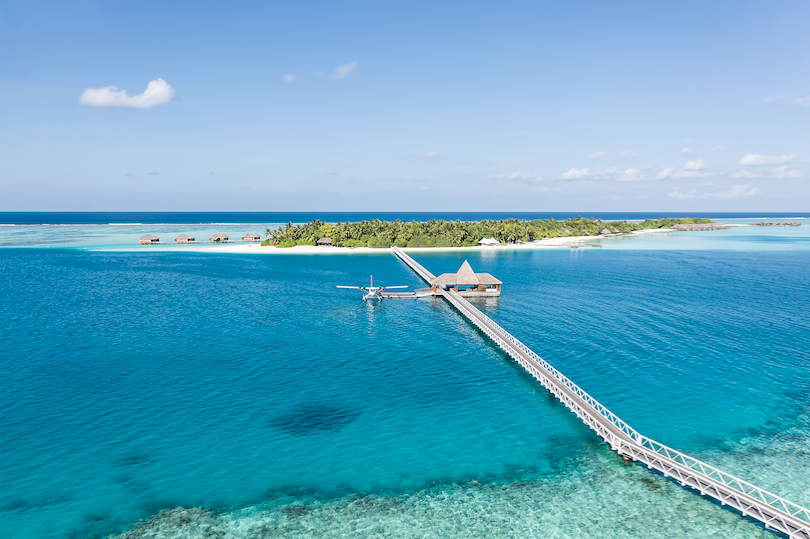 The resort is located in
the Maldives'
best diving and snorkeling locations. It melds harmoniously with the environment, flowing from island, over the ocean, to the overwater/undersea residence.
You can double down on the undersea experience at the Conrad Maldives Rangali Island at its trailblazing underwater restaurant. Ithaa Undersea Restaurant is also a world's first, where the fusion local and Western lunch and dinner menus, fine wine pairings, and mid-morning cocktails are accompanied by a panoramic view of coral gardens 16 feet below the surface of the ocean.
Ithaa Undersea Restaurant is one of dozen resort restaurants and bars that regularly make 'best of…' lists. Conrad Maldives Rangali Island also features an overwater spa and a Spa Retreat, and experiences inspired by the local environment and culture round out the ultimate island escape. Sunrise and sunset yoga practice. A meditation pavilion. A 5-hour journey to inner tranquility via a unique Zen revelation. A Spa Retreat with over a dozen water villas, its own restaurant, and a selection of therapies including a signature treatment inspired by the beauty practices of Maldivian women, including a heated coconut stick massage and organic, pineapple and papaya body scrub.
Consciously-designed villas and suites, from ultra-private beach villas nestled amongst the rich tropical landscape with direct beach access, to overwater villas ranging from private and romantic, to expansive for an extended group of family or friends, complete with sundecks, hot tubs steps into the sea, spa treatment rooms and more, provide the iconic Maldives vacation.
Start your Trip!
Copyright BestTrip.TV/Influence Entertainment Group Inc or Rights Holder. All rights reserved. You are welcome to share this material from this page, but it may not be published, broadcast, rewritten or redistributed.